It wasn't supposed to be this way.
We were supposed to be in Columbus, OH. The largest city in Ohio. The home of the Blue Jackets. Simone Biles is from Columbus. So is Jack Hanna.
As I stared at the map that Memphis morning, wiping BBQ sauce from my eyes, I remarked to the Good Doctor "Hey Amrit, look at this map."
"We should not go to Columbus," said Amrit.
"Want to do Virginia, instead? How about Roanoke?" I replied.
"What time is breakfast?" asked Nick.
It was settled. To Roanoke we went. For anyone who hasn't driven through the middle Virginia, the state is absolutely beautiful. Rolling hills, farms, Blue Ridge Mountains, and green as far as the eye can see.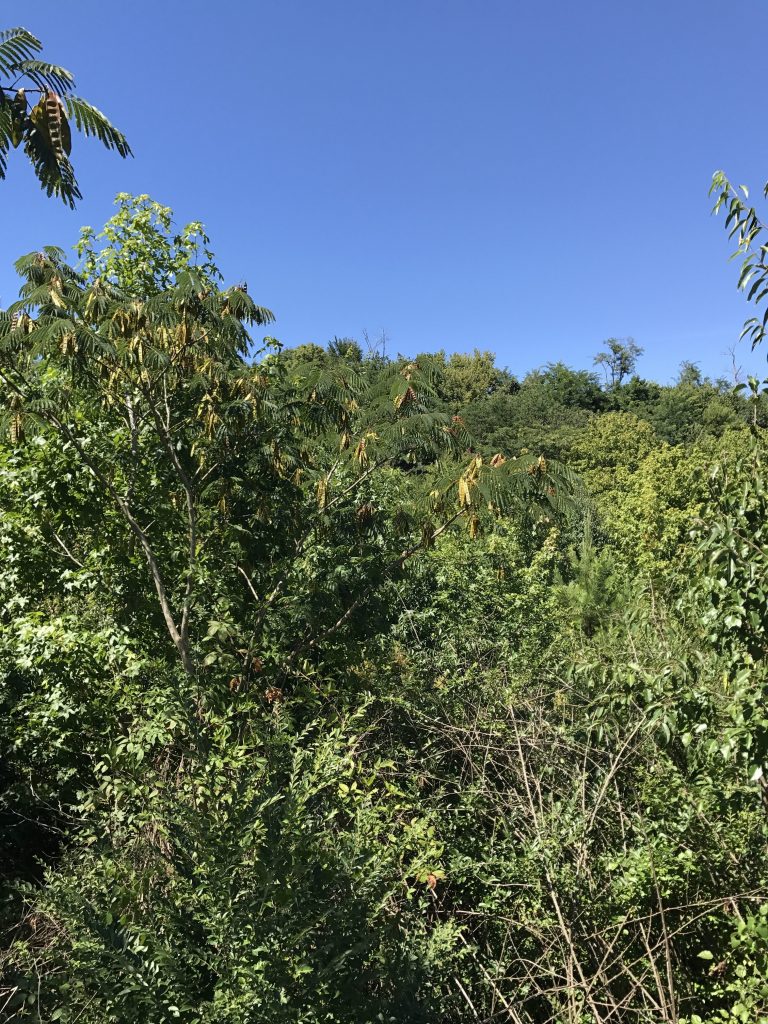 We listened to some late 90s and early 2000s rap albums while traveling across farm country. I don't want to argue, but if you think three guys in their early to mid 30s can't sing along to a D12 song, you're sorely mistaken. Anyway, mountains turned into farm land, then back into mountains again. It was an exciting time to be alive. Then, we got to our hotel, lavish in design and calming in its comfort.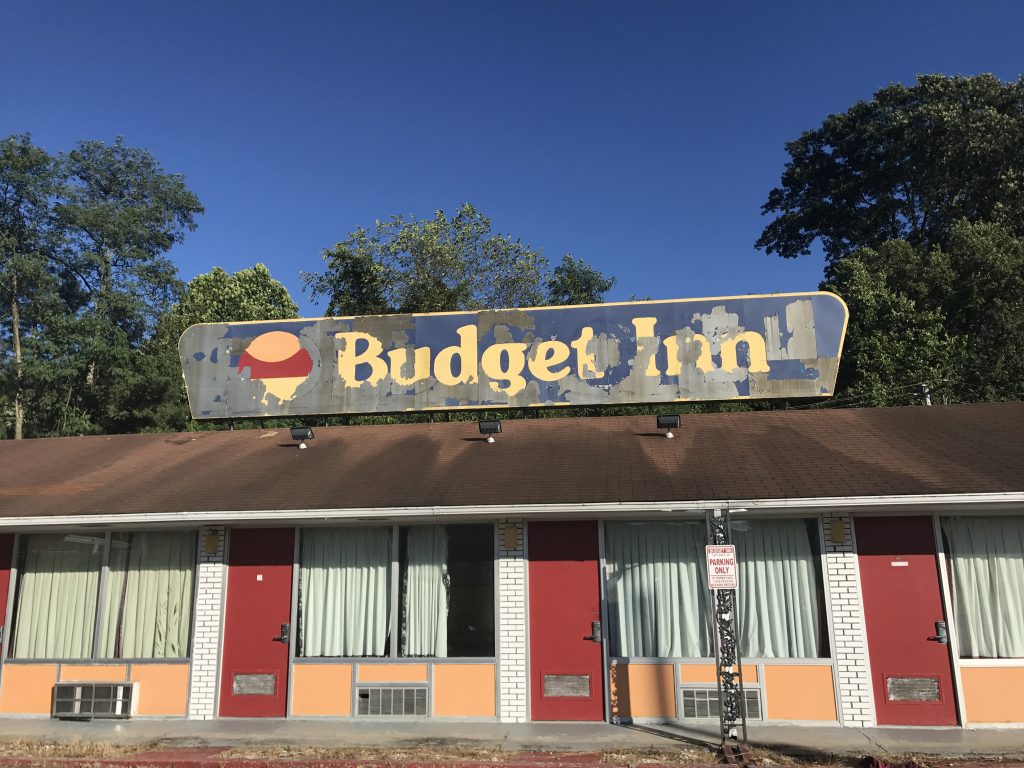 Wrong photo. At this moment, we were looking for a parking lot off Route 81 where we could let Effie go to the bathroom. This abandoned Budget Inn did the trick.
We rolled on until we got to Roanoke and checked into the real hotel. After checking in and a walk around the block with Effie, it was only 7pm. We were hungry and thirsty. Although the Zaxby's chicken franchise next to the hotel tickled our fancy, we decided to go into town and meet the real people of this fine city. We were glad we did.
We found a bar and restaurant called Sidewinders Saloon, and it was exactly what we needed. The food was delicious, the band (Ryan Broshear) sounded great, a stranger bought us a round for being out of town, and we did what most call line dancing, but what you may call something else. Convulsions, maybe. And no, there are no photographs (that we are aware of).
It was such a good time that Nick decided to strangle the Doctor and I for a bit, which he does when he's happy. Sorry for the blurry photo, it was taken by a stranger. A kind stranger!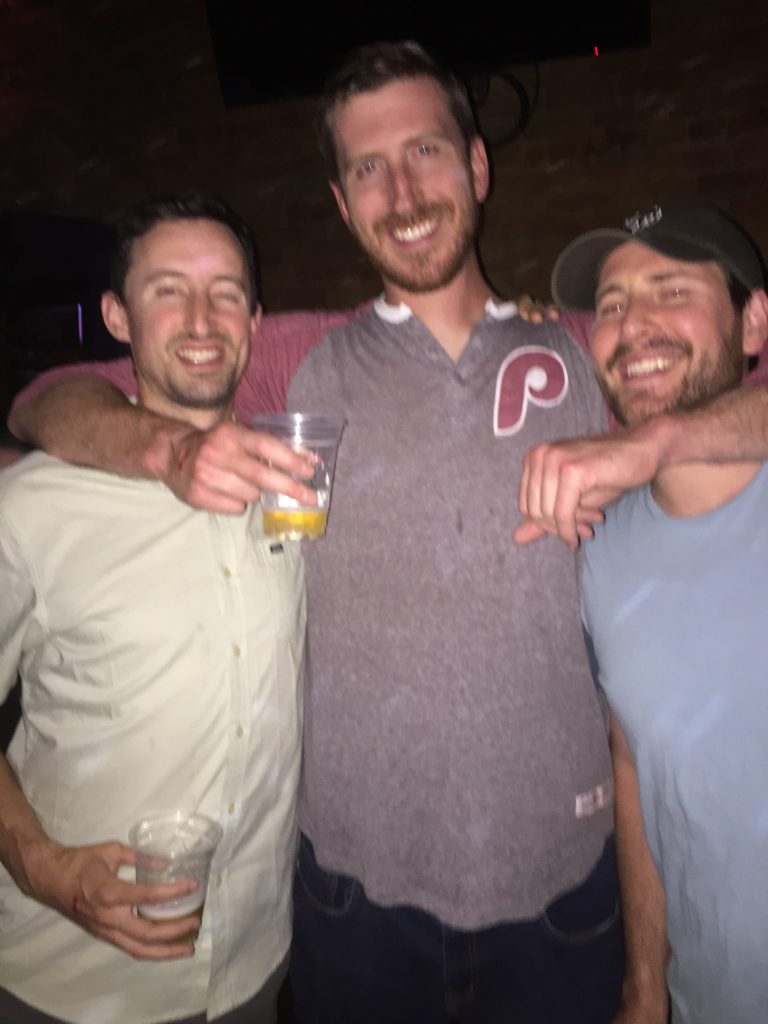 The ride to Philadelphia the next morning was pleasant. And easy. Pleasant and easy.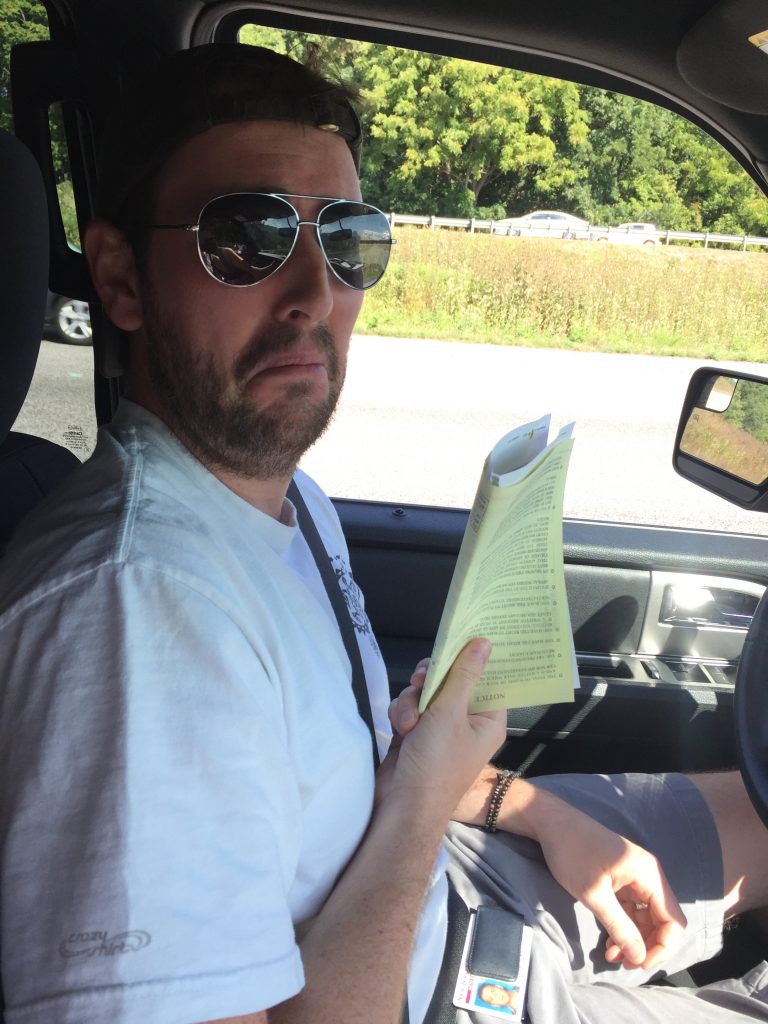 Or not. It was my turn to get a speeding ticket. Perhaps I shouldn't have bragged about not getting a speeding ticket in almost a decade, earlier in the ride. Well done, Virginia. Well done.
We had left San Diego at 8:45am on Wednesday, August 2nd. We arrived in Philadelphia at 3:30pm on Sunday, August 6, and successfully driven across the country. I can't wait to do it again.